What is 211 Lake County?
211 is the place with the answers you need to live well in Lake County, Illinois.  You can visit their site here; www.211LakeCounty.org
211 is Lake County's free one-stop shop for help:
It's a telephone helpline.
It's a texting chatline.
And, it's this very website you're visiting right now.
211 is always open, always confidential, and always free. Speak to a live person when you call in English or Spanish.
The 211 team will also interpret to more than 150 other languages.
 Phone Call
Right this very minute, there are people on the other end of 211 waiting for your call.
United Way of Lake County has trained them to guide you to the help you need.
If you are outside of Illinois looking for help in Lake County or having an issue reaching 211, call 1-855-677-5253 toll free.
Text 
Text your zip code to 898211. People at our 211 contact center are waiting for your texts at this moment.
Someone will text you back. Then all you have to do is text your question to begin getting the help you need.
Take a look through the whole website www.211LakeCounty.org. Click the colorful icons on our home page to search for services or you can search by a custom topic.
You'll find lots of organizations you can call right away. They will help solve problems you may be having….everything from money issues to child care to finding a job. And, if you would like to help others, click on the Volunteering icon.
Examples of How 211 Can Help You
Your electricity was just turned off because you couldn't pay the bill. Call 211 to find out how to get help catching up on your payments.
Your grandmother can't live alone any more. You wish you could take care of her, but you work all day. Call 211 to learn how to find a caring, safe place for her to live.
Someone in your home has started hitting you. Use 211 to find a safe place to go right now and to make a plan for the future.
Your teenager seems to have lost friends and spends too much time alone in his room. 211 can guide you to a mental health expert who can help you decide what to do next.
You just got a new job but are not sure how to get there. 211 can send you to transportation resources that can help.
Who's in Charge of 211?
United Way of Lake County leads 211 but many, many other health and human service providers in our county, including the Lake County Government, contribute time, talent, and money to make it run smoothly. UWLC is extremely grateful for their support. UWLC has a contract with Interface Children and Family Services, a leading nonprofit, to be our 211 contact center. Trained 211 experts who work at the contact center are standing by to take your phone calls and texts.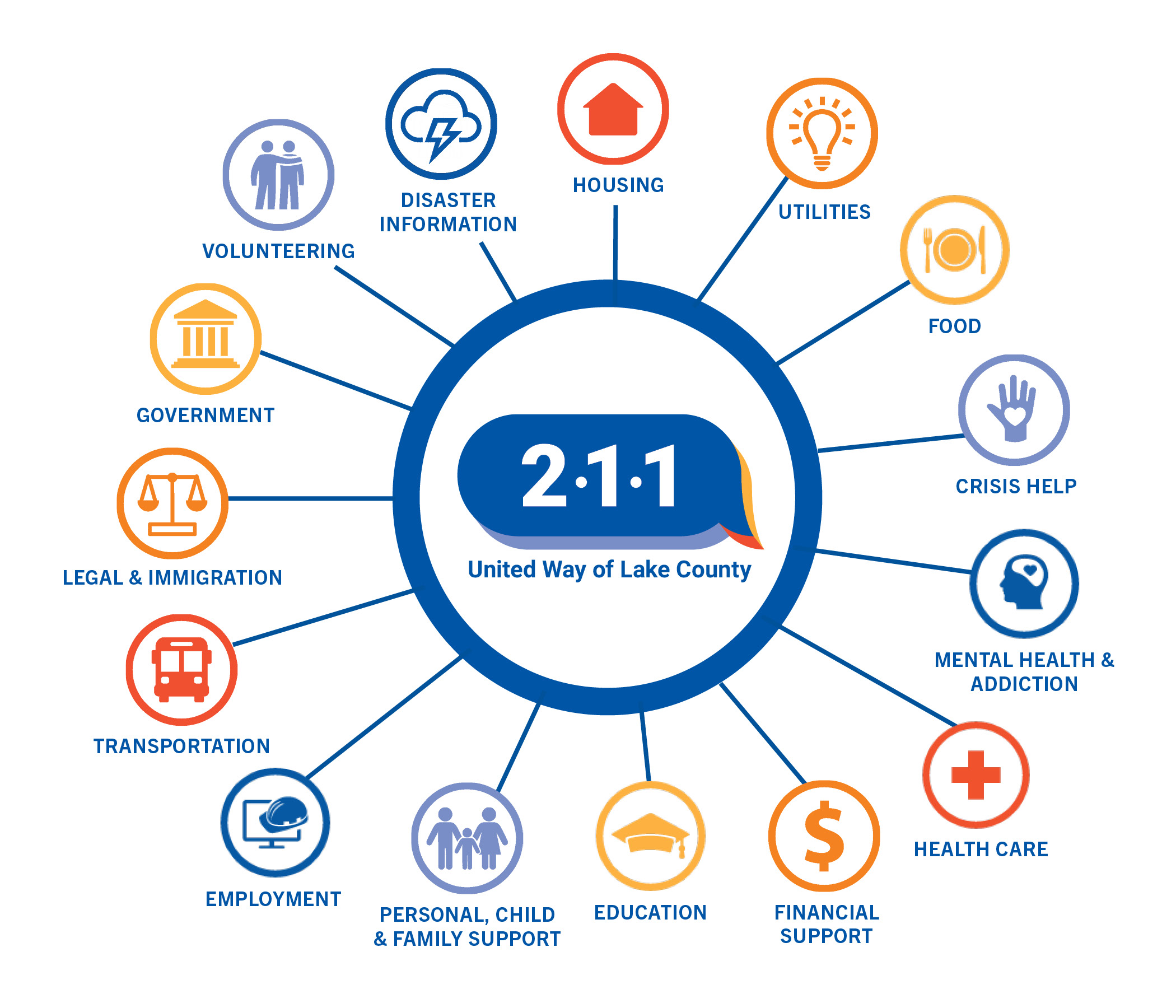 Why 211?
211 is an easy to remember, 24-hour information and referral helpline. It's designed to reduce time and frustration by acting as a central access point to the health and human services in Lake County.
Without 211, people are often faced with finding services on their own. The result is a lot of time spent calling around trying to find the answer to their need.
In addition, service providers who operate to help people with specific needs often find themselves handling calls that have been misdirected to them. These calls force the providers to spend time redirecting the callers, leading to callers being upset and providers spending time in ways that prevent them from focusing on their true missions.
United Way of Greater Atlanta was the first to introduce 211 in 1997 and it's now a national movement. United Way Worldwide is committed to the vital service 211s provide to communities all across the country. Through 2018, more than 94% of the United States had access to 211. United Way of Lake County is proud to join in.